Education and Teaching Experience
Ms. Sawaguchi
Ms. Sawaguchi, also popularly known as Harukaze sensei, has lived and taught in America for 15 years. She holds a Masters in Education from Columbia University and taught elementary and middle school students in New York.
TEACHERS COLLEGE of COLUMBIA UNIVERSITY
M.A. in Elementary/Childhood Education
M.A. in Mathematics Education
CERTIFICATIONS
K-6th Grade General Education (NY, CA)
7-12th Grade Math (NY)
7-12th Grade Japanese (NY)
TEACHING EXPERIENCE
6 years teaching in Manhattan private school
5 years teaching in Manhattan public school
6 years with The Japan Society teaching and developing lessons
Teaching in New York
Reading Japanese traditional folk tales to students, Ms. Sawaguchi helped her students understand a different cultural from their own. She also helped her students correspond with their pen pals from across the globe as a part of the social studies curriculum.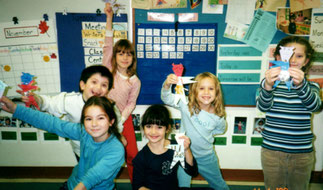 Students participating in an after school Japanese class made Japanese monster , oni, origami. With this class, the children were able to have hands-on experience with Japanese customs. Through these exposures, both appreciation for a different culture as well as curiosity towards the unknown is cultivated.